Schools Nature Learning Journeys by Young Nautilus
---
For MOE school teachers,
student care centres and enrichment centres, please visit our School Programmes page for more details for schools nature learning journeys!
For Parents &  Nature Adventure Seekers,
---
2022 July - September dates are out!
Nature walks are available for Sungei Buloh Wetland Reserves, Changi Intertidal, Pasir Ris Park Intertidal, Coney Island, Punggol Promenade and Pasir Ris Mangrove Walk.
Want to know more about our exciting trips you can share with your children, family & friends? Find out more here.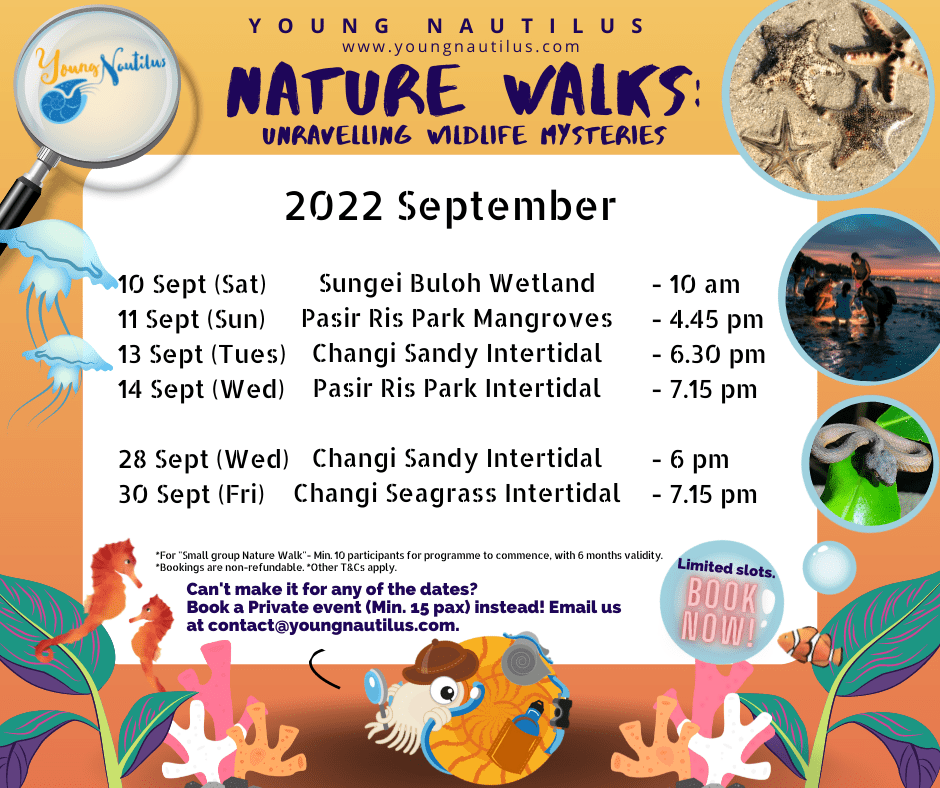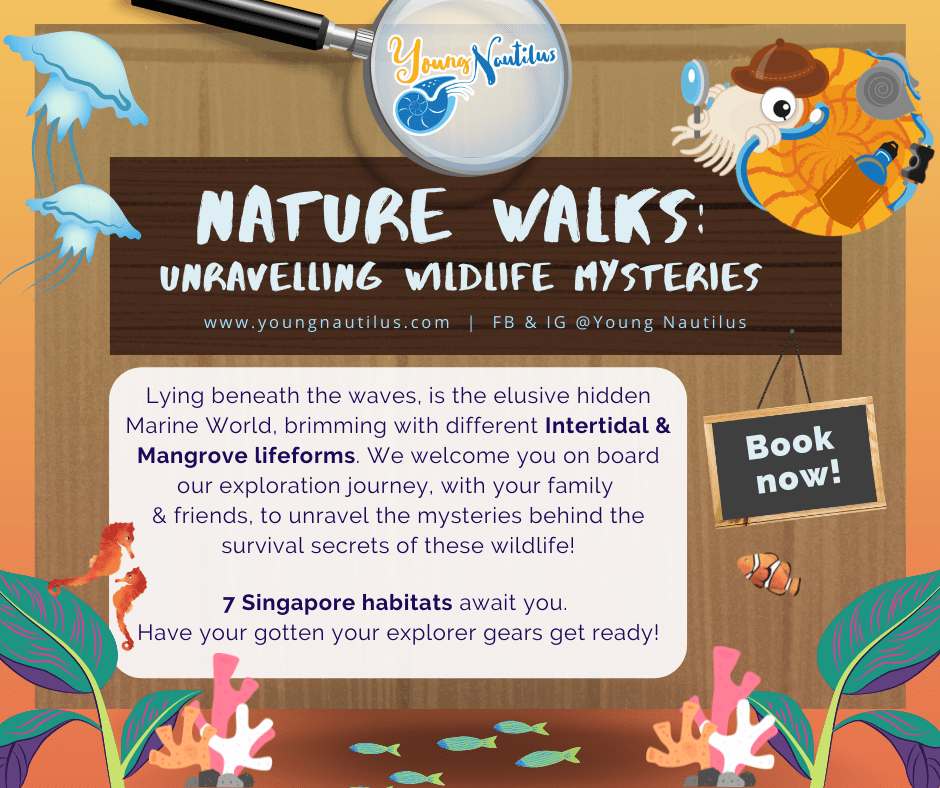 For June Dates, please find it below -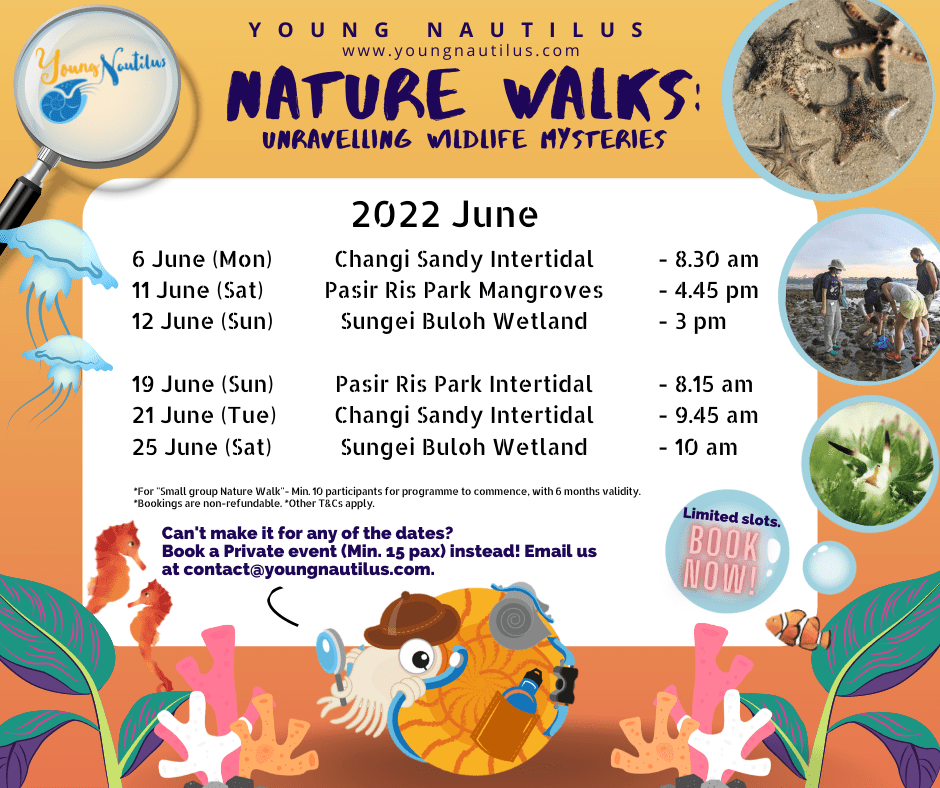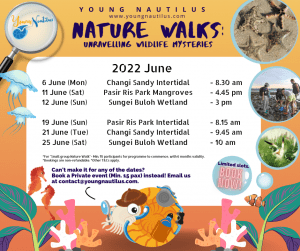 ---
Join us for our Marine Scientist Day Camps from July - September 2022!
Book your slots today at our website shop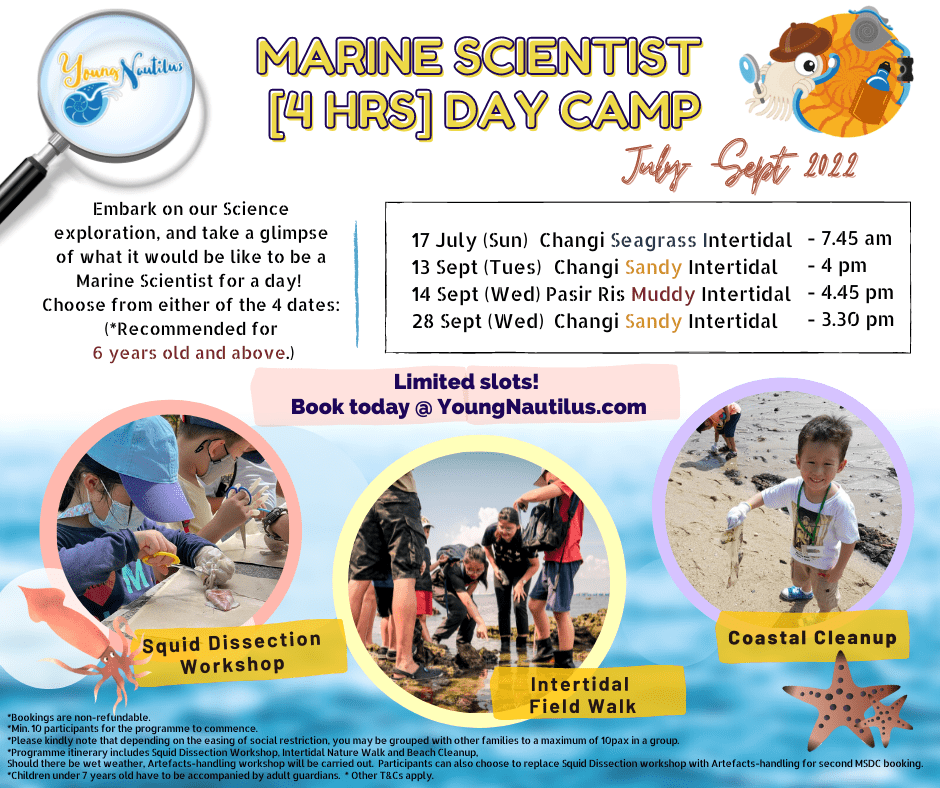 ---
As Featured on STB (Singapore Tourism Board) documentary "Sea People Of Singapore", discover and learn about Singapore's biodiversity with Young Nautilus! Click here to view the FULL VIDEO creatively directed and produced by Bernard Lau and Elton Tan.
As Featured on Frontline, Mediacorp Channel 8, discover and learn about Singapore's biodiversity with Young Nautilus!
About
Founded by educators equipped with degrees in Life Science and Marine Biology, Young Nautilus is an education enrichment partner for schools and families that provide fun and engaging science learning journeys. By fostering a deeper understanding of the world and the dynamic changes that shape it, we enrich what are taught in the MOE syllabus.
Most importantly, as their learning catalyst, our educators are equipped with the pedagogy skills required to inspire participants' learning through application and inquiry-based activities.
Our Vision
Within the spiral shape of the Nautilus shell contains many chambers that it develops continually. As there is no "final" chamber, this amazing animal continues building new chambers during its entire life. Just like the Nautilus, we seek to help students to be inspired and to empower them with life skills that will assist them to add on new knowledge "chambers" for various stages in life.  Learning and gaining knowledge should never stop.
Our Mission
To provide inquiry-based learning journeys that foster a deeper understanding of their world and the dynamic changes that shape it.  Through these experiences we seek to inspire students to become more aware and to share finding and experiences with their peers and their community.