Welcome to Young Nautilus public programmes!
1. Overview
2. Adventure Schedules
3. Exploration Sites
4. Private Walks
5. Pricing
Please click / scroll to the different sections for information

---
1. Overview
Planning fun and educational activities for your family this year of 2023?
Come along on our programmes, where we explore our own coastal backyard in Singapore, and take a closer look at the amazing animals! So, wait no more, and get your children exposed to science and nature, or see in action what they have learnt in schools about wildlife!

---
2. Schedule: When are the adventures?
2023 April - June dates!
To place your bookings, please go to our SHOP to purchase your slots now!
Locations for biodiversity nature walks at Sungei Buloh Wetland Reserves, Changi Intertidal, Pasir Ris Park Intertidal, Coney Island, Punggol Promenade and Pasir Ris Mangrove Walk!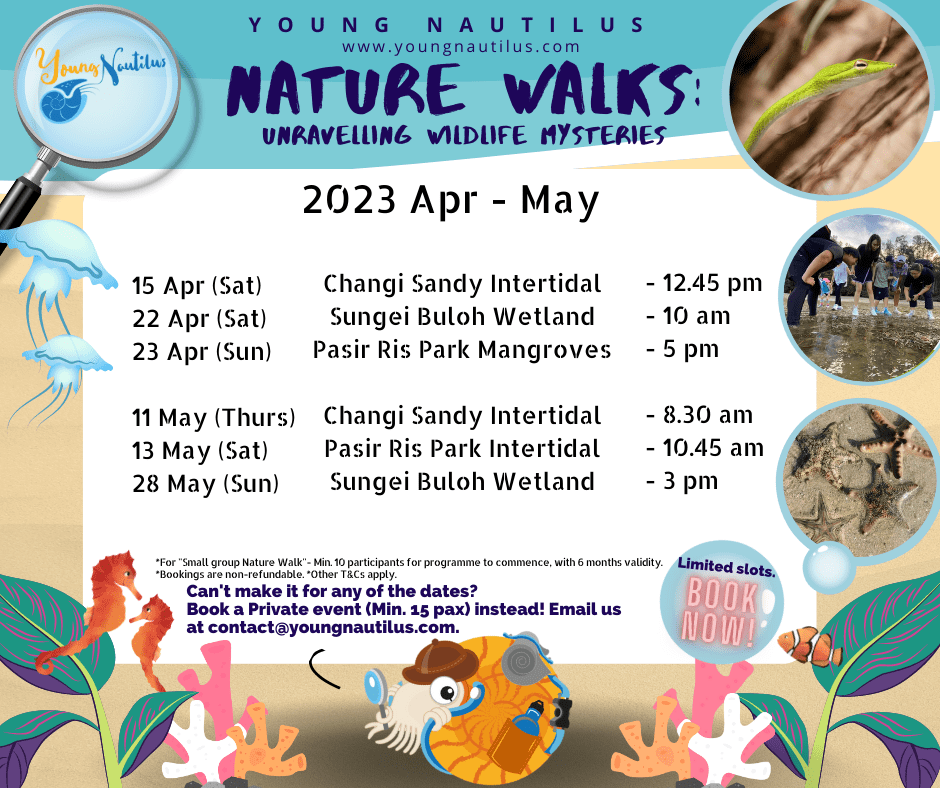 For March 2023 dates -
---
3. Locations: Where are we exploring?
Facing trouble deciding which of our nature explorations suits you and your family better?
Do look through the synopsis of the 7 locations/programmes below!
Changi Sandy Walk (Intertidal walk)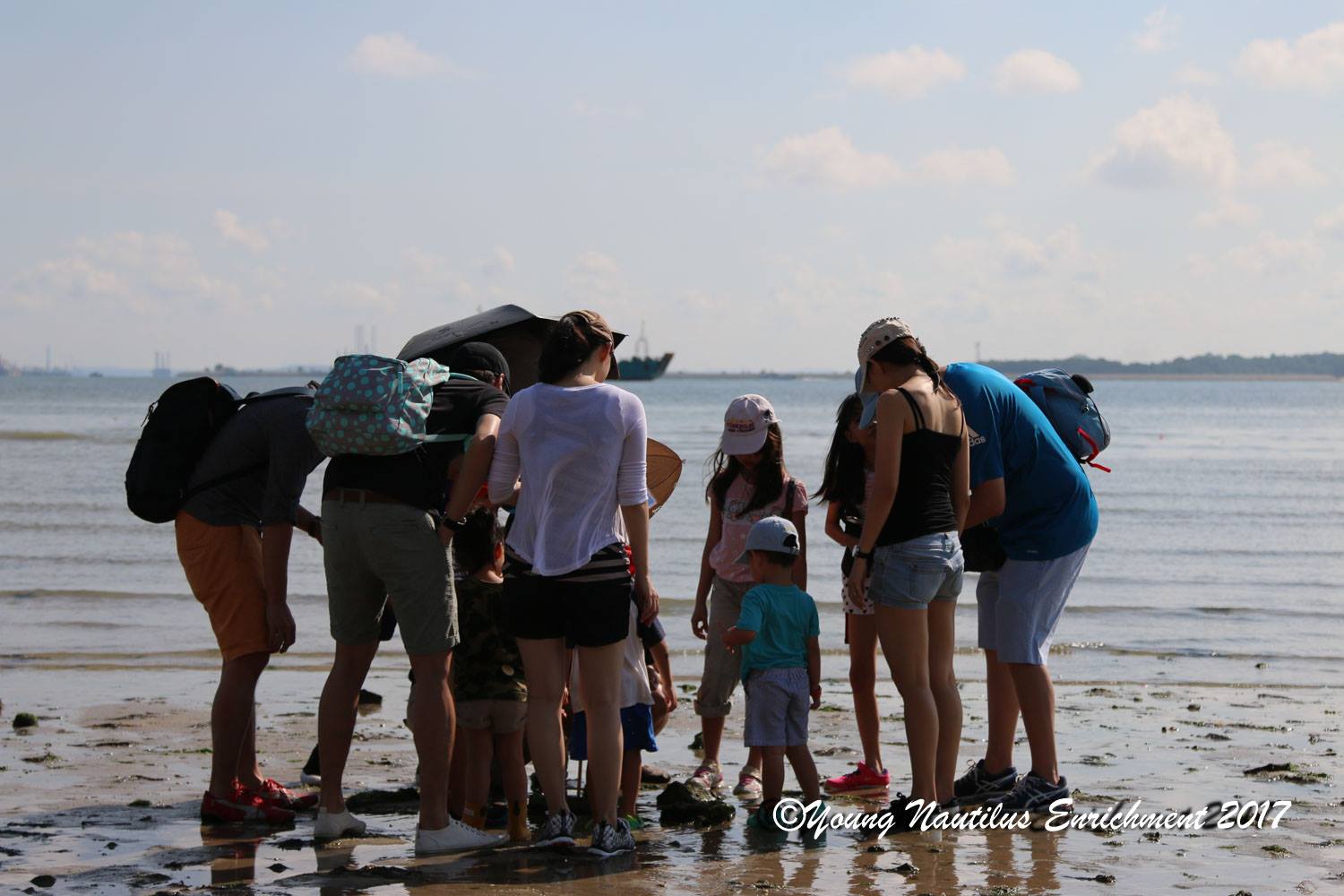 Join us for a hands-on unique experience with the marine intertidal animals of the Changi sandy shore! Aren't you curious about how these animals adapt to survive the harsh intertidal environment and make the sandy shore their home? Get your feet wet and learn about hermit crabs, sea cucumbers, swimmer crabs, sand dollars and many other amazing animals in our own backyard!
*This programme is suitable for children 2 years old and above!
Sungei Buloh Mangrove Exploration (Terrestrial walk)

Bring your family/friends to the Mangrove forest of Sungei Buloh Wetland Reserves, where they will get up close to the biodiversity of the animals and plants of the Mangrove ecosystem! You may get to see animals such as mudskippers, monitor lizards, tree climbing crabs, kingfishers, crocodiles and many more mangrove inhabitants! Note that although you will not be walking in the water, you may get specks of mud on your feet!
*This programme is suitable for children 2 years old and above!
Coney Island Rustic Shore (Intertidal Walk)

Did you know that Singapore's Coney Island has a wide variety of biodiversity in the intertidal area? Join us as we explore the rustic shores of Coney Island's beach! Home to interesting flora and fauna such as leaf potter crabs, onch slugs, horseshoe crabs, seastars, many species of anemones, and more!
*This programme is recommended for children 5 years old and above (due to long walking distance!)
Pasir Ris Intertidal Walk (Intertidal Walk)



Have you been to the long stretch of narrow beach at the serene Pasir Ris Park?
"Pasir Ris" itself means "Beach bolt rope", and on the intertidal zone of this long rope-like beach, lies an amazing biodiversity of bustling wildlife!
Catch the low tide timing with Young Nautilus, to trace the variety of charming Sea Stars, colourful Flatworms and hasty Crabs as they climb around the patch of intertidal Seagrass. When lady luck smiles upon us, we may even spot the elusive Seagrass Octopus!
*This programme is recommended for children 5 years old and above (due to muddy shore)!
Punggol Promenade Pebbly Patrol (Intertidal Walk)


Our Coney Island Rustic Exploration covers the amazing Casuarina Forest and the biodiversity on land, our Punggol Promenade Pebbly Patrol dives straight into the intertidal zone! Here we get to enjoy a more marine-centric adventure with the beautiful scenery of Coney Island! It is also here where we encountered the intriguing toadfish and other organisms like the snapping shrimps, sea sponge, Thunder Crab and sea stars!
Changi Seagrass (Intertidal walk)


Are you ready for the challenge to look out for exhilarating treasures with us among the Seagrass habitat! Although this area is near to our Changi Intertidal Walk, the biodiversity is vastly different. Hiding among the seagrass are animals like scorpion fish, seahorses, pipefishes, sea stars, flatworms, sea slugs and many more delicate marine lives!
*NEW* Pasir Ris Mangrove Walk (Terrestrial walk)


Join us to explore this hidden Mangrove gem of the East! The protected Six-hectare Mangrove forest is home to many interesting biodiversity such as Fiddler Crabs, Mudskippers, Tree-climbing Crabs, Kingfishers, Hornbills and many more interesting plants and animals! *This programme is suitable for children 2 years old and above! Note that although you will not be walking in the water, you may get specks of mud on your feet!
*Currently not available* Labrador Park Rocky Intertidal (Intertidal Walk)
Ever wondered what Labrador Nature Reserve could offer apart from the scenic coastline and lush greenery? You can descend the slippery boulders of Singapore's LAST natural rocky shores to "forage" for signs of wildlife! Get amazed at the "Teddy bear" hairy crabs, hermit crabs, sea snails and even horseshoe crabs conducting their daily lives' activities among the rocks and sand!
*This programme is recommended for children 5 years old and above!
---
4. Can I arrange my own private walk?
Private Walks for Family & Friends / Organisations


Looking to organise a private programme for your family & friend, or company? Contact us now to arrange a booking date and we would love to bring your group out on an exclusive private walk! (T&Cs – Please note that walks are subjected to NParks approval if required, and a min. of 15 pax required for a private programme).
---
Mechanics
5. How much are the nature walks?
*Small Group Nature Walk*
Child (12 years old and below) – $56
Adult -  $58
Bundle package of 4 pax (regardless of adults or children) - $224 (Discounted! U.P. $232)
Limited spaces available! Click here to sign up now or send us your reservations and details to contact@youngnautilus.com to secure your bookings!
*Ratio of approx. up to 10 pax to 1 marine educator (only for.Small Group Nature Walks) - Please note that some NParks location restrictions may vary.
*Children of 6 years old and below are to be accompanied by guardian(s)
*Please kindly note that due to social restrictions, NParks consider a child / toddler / baby of any age to be accounted as one headcount for groupings, all participants (regardless of age) will be chargeable. Thanks for your kind understanding!
*In the event of cancellation of programme due to unforeseen circumstances, Young Nautilus will inform all participants and provide alternative date(s) to take part in the programme 
*Closing date: 5 days prior to event. Payment and forms (Indemnity and media release forms) to be submitted prior to closing date.
to place a booking for your preferred date and location for our nature walk programmes! 
Terms & Conditions
*Tickets purchased will have a validity of 6 month from date of purchase / registration.
*Purchased walks are not refundable. Any changes to booking must be done at least 7 days prior to the walk. Any changes requested after will not be allowed. Please note that in the event of any personal unforeseen emergencies (e.g. medical reasons), Young Nautilus will not be able to schedule your booking and the walk will be forfeited.
*Young Nautilus reserves the rights to postpone walks due to wet weather or unforeseen circumstances that will compromise the safety / feasibility of the programme.
*Young Nautilus may take photograph/recording of any participant for any purpose, without prior approval or compensation. Please do inform our staff prior to the tour should you not want to be photographed.
*Young Nautilus shall not be liable (to the extent permitted by law) for any death, injury, loss, damage or inconvenience howsoever caused to or sustained by participant. Young Nautilus staffs may at their discretion, provide medical or other form of assistance on a goodwill basis. In no event shall the provision of such assistance amount to or be construed as an admission of liability by Young Nautilus of the death, injury, loss, damage or inconvenience sustained.
*Young Nautilus reserves the right to amend these terms and conditions at its absolute discretion without prior notice.