SPECIAL EVENTS
HOLIDAY CAMP!!
It's June School Holiday!!
Tired of staying indoor with your family?
Put on your cap, bring along your binoculars and join us to explore the vast biodiversity that our Labrador Park's and Coney Island's shores offer! Be warned though- as your feet will get wet during our splashing good times!
Complete the fun Science-centric adventures with series of indoor skit programmes, in the comfortable @FlyingCape 's classroom! Our participants will get to have a close interaction with fascinating animals such as Sea Star, Sea Urchin and colourful Sea Slugs, before learning about simple ways to protect our environment.
Our participants will also get to explore their creativity, and create their very own key-chain animals using air clays! What's a more interesting way to learn about Science and animals than being a Young Nature Explorers with Young Nautilus!
Programme includes:-
• 1.5- 2 hours Nature Walk at our local shores (19th June: Labrador Park Intertidal Exploration , 20th June: Coney Island Rustic Exploration)
• 1.5 hour of Indoor Programme (19th June: Young Intertidal Explorers' Skit, 20th June: My Guardian Animal)
• Transportation to/fro from Nature Walk sites
• Take-home Clay models
• Coloured Activity Sheet
• Certificates and Souvenirs
Price:
$182 per parent-child pair (U.P. $260.00)
$185 per siblings pair (U.P. $296.00)
$278 per bundle-of-3 family package (U.P. $434.00)
$103 per child (U.P. $148.00)

Email us at contact@youngnautilus.com or call us at 91069735 to book your slot!
---
PROMOTION PACKAGES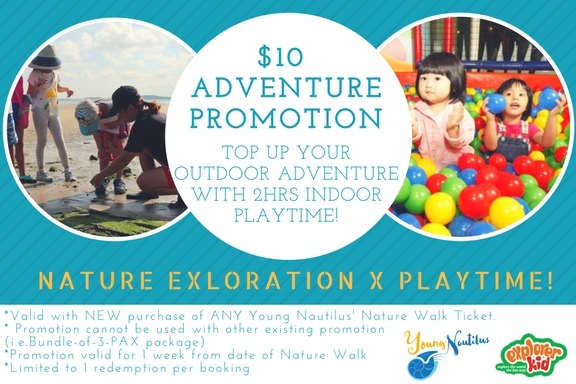 *Valid with NEW purchase of ANY Young Nautilus' Nature Walk Ticket.
* Promotion cannot be used with other existing promotion (i.e.Bundle-of-3-PAX package)
*Promotion valid for 1 week from date of Nature Walk *Limited to 1 redemption per booking
SIGN UP NOW! to place a booking for your preferred date and location for our nature walk programmes! 
-----------------------------------------------------------------------------
*Ratio of around 10-15 pax to 1 marine educator
*Children of 8 years old and below are to be accompanied by guardian(s)
*In the event of cancellation of programme due to unforeseen circumstances, Young Nautilus will inform all participants and provide alternative date(s) to take part in the programme 
*Closing date: 5 days prior to event. Payment and forms (Indemnity and media release forms) to be submitted prior to closing date.
Terms & Conditions
*Tickets purchased will have a validity of 6 month from date of purchase / registration.
*Young Nautilus reserves the rights to postpone walks due to wet weather or unforeseen circumstances that will compromise the safety / feasibility of the programme.
*Young Nautilus may take photograph/recording of any participant for any purpose, without prior approval or compensation. Please do inform our staff prior to the tour should you not want to be photographed.
*Young Nautilus shall not be liable (to the extent permitted by law) for any death, injury, loss, damage or inconvenience howsoever caused to or sustained by participant. Young Nautilus staffs may at their discretion, provide medical or other form of assistance on a goodwill basis. In no event shall the provision of such assistance amount to or be construed as an admission of liability by Young Nautilus of the death, injury, loss, damage or inconvenience sustained.
*Young Nautilus reserves the right to amend these terms and conditions at its absolute discretion without prior notice