As Featured on Frontline, Mediacorp Channel 8, discover and learn about Singapore's biodiversity with Young Nautilus!
For MOE school teachers, student care centres and enrichment centres, please visit our School Programmes page for more details.
For Parents,
Our new July to September 2019 walk schedule is out for our biodiversity nature walks at Sungei Buloh Wetland Reserves, Changi Intertidal, Coney Island and Labrador Park! Please visit our Public Programmes page to see what exciting trips you can share with your children.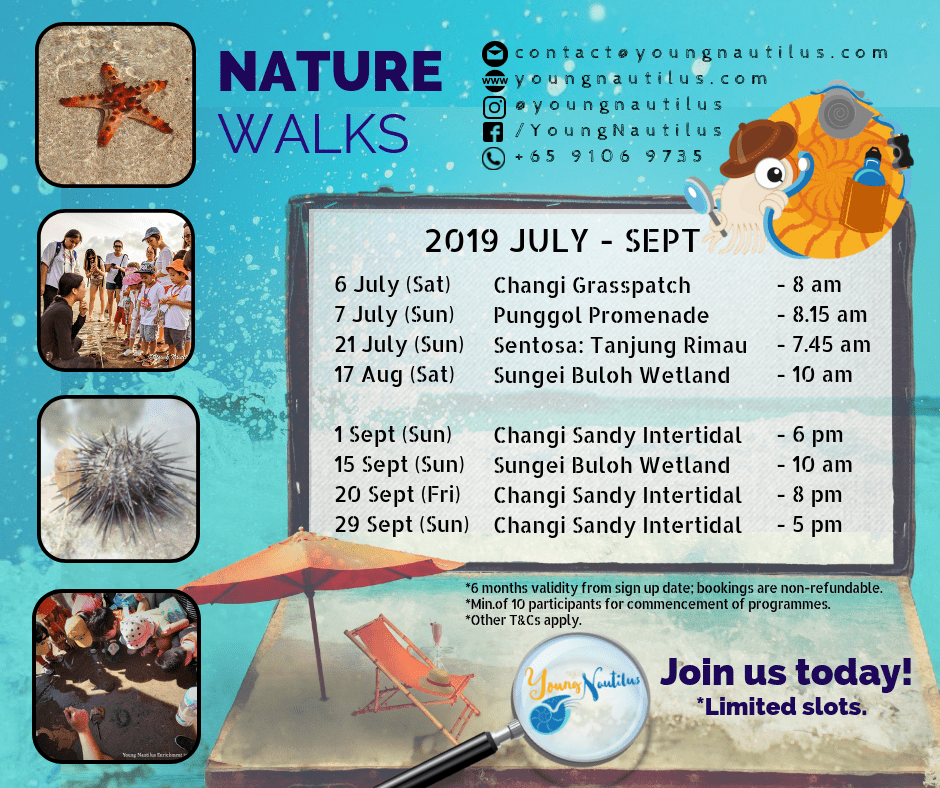 For April to June 2019 dates, please refer to the schedule below!
Why People Love Us
We engaged Young Nautilus for their Marine Discoverer's skit for our K1 children and we were very impressed with the patience and knowledge they had displayed and shared with the children. The skit was engaging and the live specimens they brought in were enthusiastically received by the children. Throughout the whole presentation and up close encounters, the crew were very patient and we could see their earnest desire to impart and share their knowledge with the little ones. And we were so happy to see the little ones' minds ignite with curiosity and wonder as they oohed and ahhed over the little creatures.
Great job, Young Nautilus! We will definitely recommend you and will engage you guys again. Thank you for making it a great day for us and the little ones.
Pan ShuQin Pat's Schoolhouse Principal (Claymore)
We recently went on the Young Nautilus changi coastal walk and found it an excellent choice with really young children. I was surprised at how many different marine creatures we saw and that could be found in Singapore's intertidal zone. The educators or guides were informative and interesting and clearly passionate about sharing their knowledge. The staff were well prepared and had set up stations with the animals they have found. Interactive and educational family activity. Thanks!
We signed up for the intertidal walk at Changi and it was truly an eye-opening experience for the whole family. My son loves marine life so to see anemones, sea slugs, sand dollars, tube worms and sea cucumbers up close is truly an awesome experience! We learned so much from the guides (Rachel and Debra) and the walk was excellently prepared! Looking forward to join the Sungei Buloh walk next time!
We brought our boy for the intertidal walk at changi. My son simply loves the walk!! Everything was well organized and our guide (Angie) was so friendly and able to explain to us about the creatures that we came across that day. It definitely was a fruitful and enjoyable walk. Will look forward to my next exploration with them again!!!
We had a great evening exploring Changi! The facilitators are not only knowledgeable, but are very passionate to share their love for marine creatures to the young ones. Was initially worried if my 4 years old will be tired or bored, but she was engaged, listening to facilitators, touching, looking at the marine creatures. Will definitely go for another trails. 
🙂
My son and I totally enjoyed the sungei buloh tour. The guides were able to explain about all the animals we have seen and answered all the questions that the little ones have. It was too amazing to be able to see the crocodiles, water monitors and the draco lizard. Kudos for a job well done and for keeping the curiosity in the kids alive.
" Thank you for coming down to our school! 🙂 It was very engaging and captivating and the children loved it! Great chemistry between the team as they carried out their skit. Very friendly and they could manage the kids very positively and well! Would consider them should we need such programmes again! Thank you for the warm interactions and things learnt for the kids! 🙂 "
Chloe Yeong Teacher, Pat's Schoolhouse (Katong)
We had a very good and educational nature walk on Coney Island. Learnt so many new things about the island, and the life and organisms it supports. Our guide, Marcus, was very engaging and helpful in explaining and teaching the group about the marine life found on the inter-tidal zone of a beach on Coney Island. A very positive experience and recommended for families, and school groups to have a practical approach to learning, and just as importantly, awareness of our environment and life around us.
What an awesome outing for the whole family! We saw so much and learnt so much. Thank you Peter and KL. We thoroughly enjoyed today's nature walk... living science education. 🙂
It was indeed a great learning journey with Lee Kiang at Sungei Buloh. My family really have a great time and gain a lot of knowledge understanding the nature on how it works and most interestingly, on how it's able to survive on its own. Would like to sign up for Changi Beach Adventure in March if time permits. Really cool and looking forward to joining the tour again. Cheers!